RSVP!
From bespoke wellness retreats to wine-paired, gourmet luncheons, Kamalame hosts an array of unique events that—vitalizing or vinophile—reflect the ultimate in island lifestyle.
Silver Linings Retreat
De-stress, detox, weight loss, or kick-start your fitness routine with individually tailored fitness programs designed by Silver Linings retreat founder, Chrissy Sundt. Following an in-depth consultation prior to arrival, Sundt and her expert team design bespoke diet plans and itineraries that focus on the personal wellness goals of each guest. Combining Pilates, Yoga, Barre, HIIT, Cardio, Stretch, and Meditation, all set to the sound of the ocean or curated playlists from NOX Entertainment, classes are limited to eight guests, ensuring individual attention and optimal results. Seafood focused menu plans focus on clean, nutrient-rich, organic cuisine, free of processed sugars, carbohydrates, or pesticides.
Call us at (800) 790-7971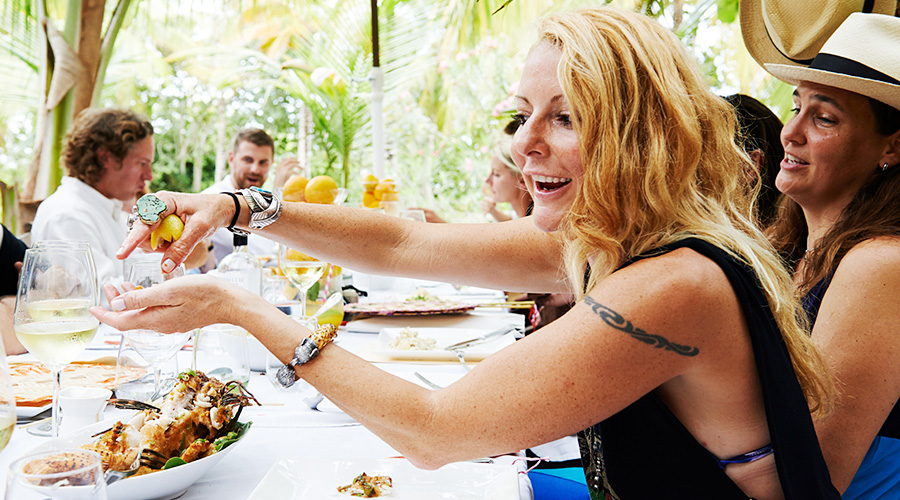 Luncheon Tickets
Renowned as one of the most delightful events in the Bahamas, Kamalame's monthly luncheon celebrates gracious island living with a singular afternoon of dining, dancing, and drinking for a lively crowd of friends, family, international hotel guests, island home owners, and Nassau swells who boat over for the day.

Collaborating with the sommeliers of Young's Fine Wine and DJ Kirk Duncombe, the Luncheon kicks off with an hour of signature cocktails and canapés created especially for each occasion. Which is followed by a languid, wine paired, meal served at beautifully dressed tables around the palm fringed Great House or beach front Tiki Bar. A multi-course affair celebrated for its signature island cuisine and fresh, locally sourced ingredients, each plate expertly paired with fine wine or champagne, the Luncheon is capped with a round of delectable desserts, coffee, and aged rum.

Tickets cost US$190.50 including taxes and gratuities. Payment accepted with a Visa or MasterCard, seats are non-refundable. Note: Guests who reserve a room with the Guest of House meal plan enjoy a discounted access to The Luncheon at US$95.25 including taxes and gratuities.
Choose from available dates below:
Book now
"
'Luncheon', as the regulars call it, is a languid monthly affair with wine, dancing, and a mean so delicious people fly in from around the world just to attend. Yet, the vibe is surprisingly unpretentious.
— FOOD & WINE
"