TRAVEL REQUIREMENTS TO VISIT PARADISE
Effective August 6, 2021, a Covid-19 PCR or Rapid Antigen test is required for entry in Bahamas. The test should be administered within five (5) days of your arrival date and taken to the airport. Learn more about new testing requirements: To apply for your travel visa, visit
www.travel.gov.bs
If already in Bahamas, wishing to visit the Cay, and not inoculated, then a Covid PCR test is required and should be taken within 3 days of visiting the Cay. The negative test results must be presented, before or upon the day of arrival.
If a rapid antigen test is required to return to your country of origin, this can be administered on the Cay. A voucher should be purchased on
www.travel.gov.bs
and shown to the nurse, who will then administer the test at a rate of US$50 pp, cash only. Test results available within 30 mins. Prices vary if one is not vaccinated.
Experience The Cay
Ease into life on the Cay. After all, there's no better place to fully unwind than in an intimate tropical setting dotted by swaying palm trees and sweet-scented bougainvillea – the sound of gentle waves never out of earshot. You'll find countless ways to embrace bliss on the Cay.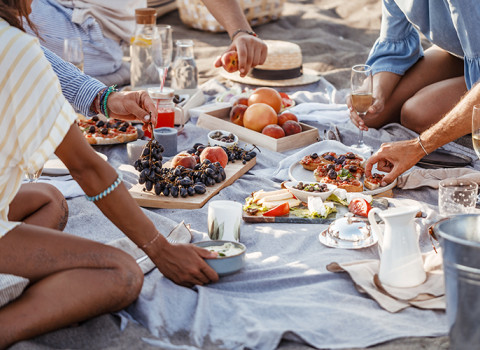 North End Beach Picnic
Grab a hamper stocked with tasty sandwiches, cookies and wine and head to the north end of the Cay in your sand chariot.
What a great way to spend a lazy afternoon on the beach.

Cost for picnic items will be billed to Standard suite guests

Contact Shaun at 1-800-790-7971 to reserve.