TRAVEL REQUIREMENTS TO VISIT PARADISE
If you require a Rapid Antigen test, prior to departing the resort, your appointment is scheduled by the Concierge team on the Cay. The rapid test costs $50 usd per person and the results are returned in 30 minutes and uploaded to your travel visa portal online. You can keep the results on your cell phone. Cash, visa, mastercard accepted.
Experience The Cay
Ease into life on the Cay. After all, there's no better place to fully unwind than in an intimate tropical setting dotted by swaying palm trees and sweet-scented bougainvillea – the sound of gentle waves never out of earshot. You'll find countless ways to embrace bliss on the Cay.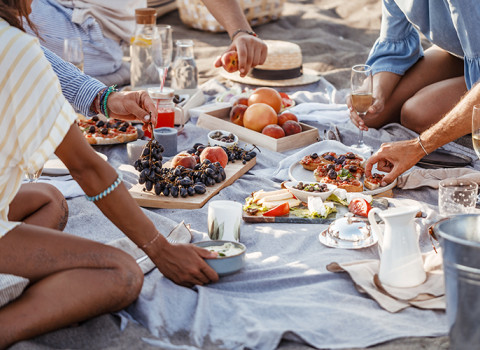 North End Beach Picnic
Order a hamper stocked with tasty sandwiches, cookies and wine and head to the north end of the Cay in your sand chariot. What a great way to spend a lazy afternoon on the beach.
Cost for picnic items will be billed to Standard suite guests. Please place picnic orders the day prior to ensure a smooth adventure.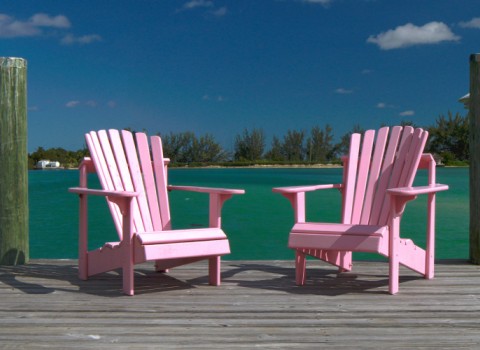 Sunset Beach
Bring a drink and relax in our signature pink chairs down by the beach to watch the sun go down on another day in Paradise.
Stay tuned for pop-up sunset watch parties at the beach!
Mask and Snorkel Rentals
If you do not travel with your own gear, we have a selection of masks and snorkels available for use. Please note that fin rentals are limited to our boat excursions and the
nearby waters are shallow.
Rentals require a $50 deposit which will be refunded upon return of undamaged gear.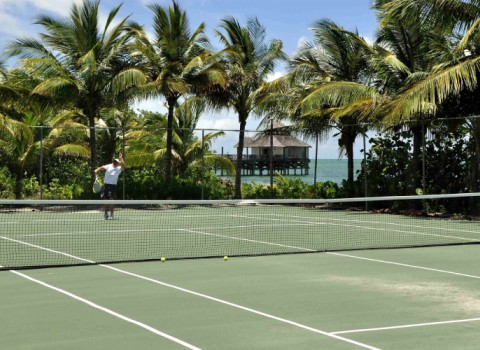 Tennis Courts
Play anytime! We have a small selection of rackets and tennis balls available at Pineapple House.
Cinema Paradiso
Join us for a monthly movie night under the stars! Flyers are sent in your breakfast baskets the day of the show. Please RSVP with our Concierge team to reserve your seats and order delicious bites from the Movie Menu.