3 Simple Steps to Visit Paradise
Have a COVID swab test completed within 7 days of intended travel.
Submit the form and negative COVID swab test to travel.gov.bs for a travel card which will be emailed within 72 hours.
On the day of travel, have copies of your COVID test, Travel Card, and Passport.
Experience The Cay
Ease into life on the Cay. After all, there's no better place to fully unwind than in an intimate tropical setting dotted by swaying palm trees and sweet-scented bougainvillea – the sound of gentle waves never out of earshot. You'll find countless ways to embrace bliss on the Cay.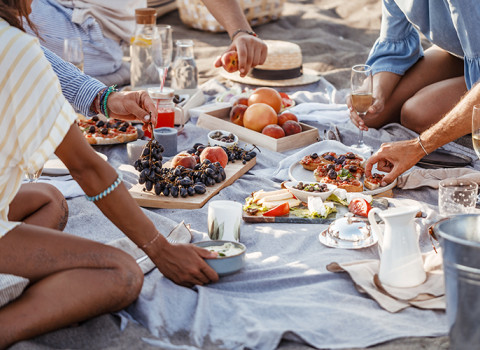 North End Beach Picnic
Grab a hamper stocked with tasty sandwiches, cookies and wine and head to the north end of the Cay in your sand chariot.
What a great way to spend a lazy afternoon on the beach.

Cost for picnic items will be billed to Standard suite guests

Contact Shaun at 1-800-790-7971 to reserve.
Cancellation Policy: Cancellation for all tours, services and scuba course is prohibited within a week prior to the scheduled tour. In the event of bad weather, prior to departure or any other reason that is deemed acceptable by its operators, we will reschedule your tour upon availability or cancel the excursion if rescheduling is not possible. Modifications are permitted at least 48 hours in advance.
Bone Fishing: All payments are non refundable and changes must be discussed and agreed upon with or by the assigned private guide.