TRAVEL REQUIREMENTS TO VISIT PARADISE
Effective August 6, 2021, a Covid-19 PCR or Rapid Antigen test is required for entry in Bahamas. The test should be administered within five (5) days of your arrival date and taken to the airport. Learn more about new testing requirements: To apply for your travel visa, visit
www.travel.gov.bs
If already in Bahamas, wishing to visit the Cay, and not inoculated, then a Covid PCR test is required and should be taken within 3 days of visiting the Cay. The negative test results must be presented, before or upon the day of arrival.
If a rapid antigen test is required to return to your country of origin, this can be administered on the Cay. A voucher should be purchased on
www.travel.gov.bs
and shown to the nurse, who will then administer the test at a rate of US$50 pp, cash only. Test results available within 30 mins. Prices vary if one is not vaccinated.
Can't-Miss Events
Time your visit just right and you'll be on the cay for a season or celebration that captures our laid back-meets-island luxe vibe. Whether it's crab season, lobster season, or the monthly luncheon you've been hearing so much about, it's always a great time to experience Kamalame Cay.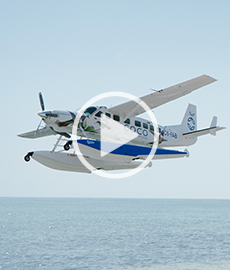 HELLO COCO!
Travel from Nassau to Kamalame Cay in style
Contact:
syoung@flycocobahama.com
to reserve
Learn more